Part 3 in our series of
Fasting Self-Experiments
. In this longer
10 day water fast
I tracked results with a broad set of biomarkers (ketones, glucose, weight, hormones and cognitive performance panels).
This is a long post – if that scares you, jump directly to what you're looking for:
Video Recorded on Day 10 of Fast Just Before Refeed
Note: I was yet to realize the post-fast rookie mistake I was making!

I've been fasting once per month for 5 days since my first water fast experiment in June 2015. If you are new to fasting, you can get all the why and how basic details in that post.
The results from my 5 day fast cycles have been so positive that I couldn't help but wonder if More is Better when it comes to fasting.
This led me to ask:
"Will I benefit from a 10 day fast programmed into my life once per quarter or twice per year?"
To get an answer to that I broke that down into the following questions I was going to try to answer with this first 10 day fast:
Can I remain productive during a 10 day fast?
(10 days is a big chunk of time to strike off from work and life – far too big for my taste! Let's be sure I'm not throwing away the equivalent of 40 productive days a year with this habit)

Would my mental performance suffer? Perhaps leading subtly to worse decisions, or perhaps just slower thinking?
Would my energy levels remain the same or decrease? Would there be a change in how many hours I could comfortably work per day?
How about concentration, focus and drive?

Is "10 day fasting" every quarter sustainable? Specifically, where I'm doing monthly cycles of 5 day fasts in between?

Would I double the weight loss of a 5 day fast? And thus make it difficult to recover the weight within the following month? (The question here: Does weight loss follow a linear path based on number of days fasted?)
Would a 10 day water fast be as easy, psychologically and physiologically, as the 5 day water fasts? Or would I hate it? (Nothing we hate is going to get done repeatedly)
Is there any downside impact on "adrenal health" or cortisol regulation from fasting? (this is a question I've been attempting to answer since I started long duration fasting)

To try to answer these questions I tracked cognitive performance, hormones, metabolism and weight throughout the fast.
I also committed to following a normal rhythm of life and work during the fast this time. I would run life as usual, and let the chips fall where they may – I would see if the fast got in the way.
(Note: Please do not take this as advice to do this at home yourself – I'm not a doctor, and would be extremely upset if you hurt yourself – please be cautious with fasting.)
The outcome we'll get to in the results in a second, but but first "the Why"…
Why Do a 10 Day Fast?
We've covered the benefits and whys of fasting well in previous episodes, however, as a quick reminder here's the list:
Anti-Cancer: Leveraging the metabolic theory of cancer and Dr. Thomas Seyfried's work, fasting may be an effective tactic to reduce our future risk of cancer.
Immune System Effectiveness: Cyclic fasting has been shown to regenerate immune system cells which deteriorate 'naturally' as we age or via environmental or other insults. Thus, it may reduce or stave off some of this natural deterioration and keep us healthier.
A Stronger Body: Lean body mass gains including bone density increase and muscle mass increase have also been tracked in studies and myself.
Body Fat Removal: Fasting or cycles of fasting can be a useful tactic for removing unwanted excess body fat.
The 10 Day Water Fast Results
Metabolism on 10 Day Fast Looks Similar to 5 Day Fast
In 5 day fasts I consistently see glucose drop to between 50 and 60 mg/dL and ketones rise to between 5 and 7 mmol/L. In the additional 5 days it seems you shouldn't expect any big change. My numbers came back largely the same.
My 'switch time' from glucose to ketone metabolism continues to edge forward to happen slightly earlier with each fast I do. This time just past the 48 hour mark the switch took place – my blood ketones jumped up and glucose dropped down to their fasting equilibrium levels. My metabolism had switched to ketone burning.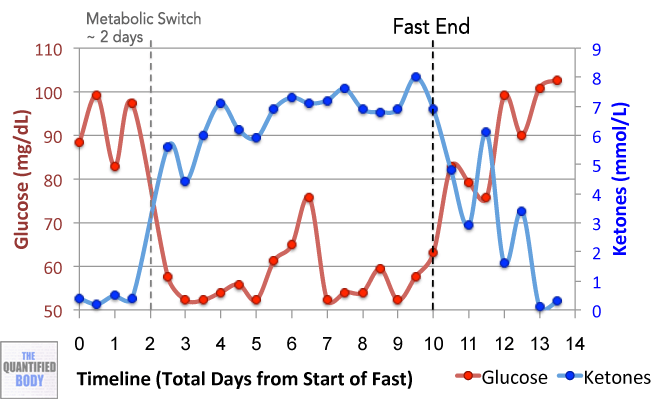 A few interesting points:
There was a slight glucose upwards blip on days 6 and 7 where it rose back up to between 60 and 70 mg/dL. This was most likely caused by the sleep disruption I experienced from day 5 (see sleep details). Low quality sleep tends to impair glucose regulation – thus higher (but still low) glucose.
On day 7 and 9 I got several "HI" errors for my ketone readings, meaning that my ketones were over 8 mmol/L, the upper limit of the ketone meter's range.
For the first 3 days post fast, days 10 to 13, my ketones were still spiking high in the evenings and quite erratic – this was most likely an anomaly this time around due to my Post-Fast Rookie Mistake.
Despite the glucose uptick on day 5, I stayed well within the therapeutic range to provide anti-cancer benefits outlined by Dr Thomas Seyfried (see explanation via my interview with him in Episode 16).
So long as you remain under a Glucose Ketone Index of 1, you are assumed to be within the therapeutic range as per chart below where I'm shown to have had a complete 8 days of therapeutic anti-cancer action.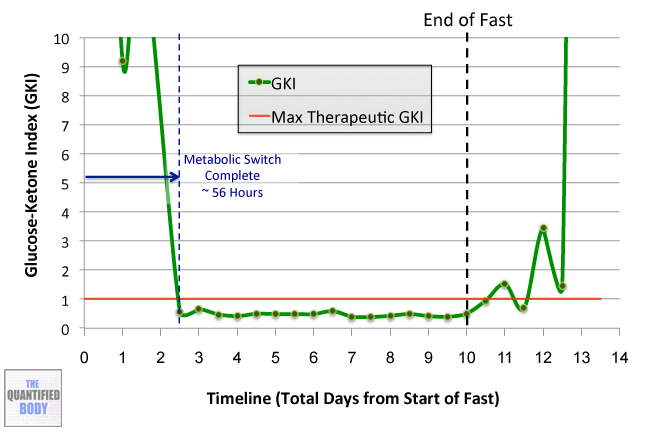 Weight Loss: How Much & How Long to Gain it Back?
Over the 10 days I lost a total of 5kg (ll lbs) of weight. The weight loss was at a consistent daily rate as usual, except for Days 8 and 9 where it stalled at a weight loss plateau, before a further drop on the morning of the last day.
I regained all the lost weight by the 18th day after the end of the fast – and this was despite some digestion re-startup issues for the first 3 days post fast (see the post-fast rookie mistake for the details). So the weight was really recovered via 15 days of normal eating.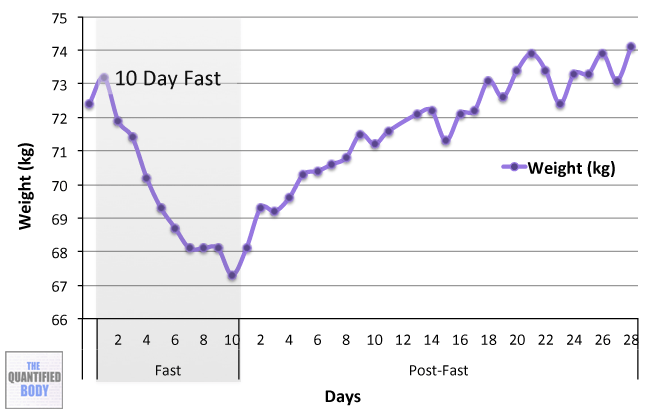 Testosterone on a Fast: Big Drop & Libido Changes
It makes sense that you shouldn't expect to be on top of your 'libido' game while fasting. When food is scarce we should have evolutionarily had more important things on our mind – like finding food to survive.
This was certainly part of my experience. The longer the fast, the less interest I had in women or sex. By day 5 my testosterone levels (DUTCH Test – see in labs) had dropped below the 20 to 40 year old male reference range.
A couple of studies I found corroborated this with testosterone dropping significantly during fasts (and then rebounding strongly with refeeding)1,2.
The Takeaway: NOT a good idea to fast on honeymoons or dates. The day after ending the fast – great idea.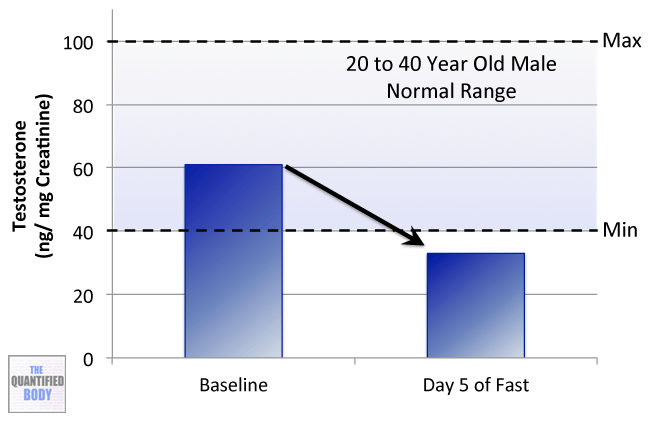 Is it OK to Fast with Adrenal Fatigue?
In previous fasting episodes I've noted that I'm working on "low free cortisol" levels that I've been tracking for a couple of years. A situation that I expect, based on symptoms I now understand dates back to as much as 10 years ago.
One of my concerns with repeated fasting (considered a stressor) was that it may not necessarily help with this situation – when you look at it through the lens of "Adrenal Fatigue".
Specifically, I was referring to the idea that Low Free Cortisol = "Adrenal Fatigue". Thus adding more stress could exacerbate the issue, reasoning that the adrenal glands are already overstretched in a normal everyday scenario without that added stressor.
In this fast I learned that there's less reason for concern than I'd initially considered. You need a bit of background to understand why.
Historically, people from the functional medicine realm have referred to "adrenal fatigue" as a state of fatigue of the adrenal glands, whereby you typically have low energy in the afternoons. This can happen to me at times. It is documented and diagnosed via 4-point free cortisol salivary tests like the one from Biohealth that I've done previously (See the results from previous adrenal labs in this episode).
However that name doesn't have a very accurate definition or explanation. The term is used quite vaguely for the most part. We can't scan an adrenal gland and see it in a withered state for example. We don't have a specific test that can show the state of 'adrenal gland fatigue' that ties it back to the adrenal gland itself.
So a new term that is surfacing for the situation of low free cortisol is "cortisol dysregulation" as a result. It provides at least a 'less wrong' definition. Cortisol isn't normal, it's lower than it should be – and thus is driving some fatigue symptoms. It's dysregulated. Another term you may have heard is HPA Axis dysregulation.
The DUTCH test I used to track my hormones is useful where it comes to investigating and better understanding cortisol metabolism as it looks at both free and metabolized cortisol. Metabolized cortisol is a proxy for total cortisol output. The traditional salivary tests used look only at free cortisol levels. Thus, DUTCH enables you to assess whether your total levels of cortisol are low (the adrenal output is lower, or if it's just free cortisol that is low, and total cortisol is normal).
As you can see below my total cortisol (metabolized cortisol) is right in the middle of the normal reference range.
Metabolized Cortisol Levels (Baseline and Fasted)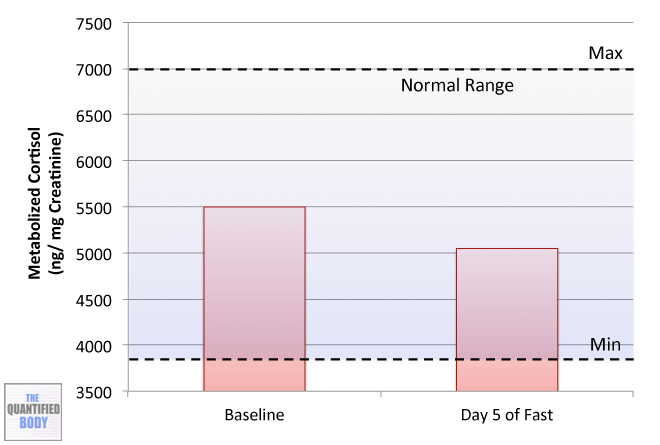 So in my case, it turns out that I have above average metabolized cortisol levels – so in fact total cortisol output is well within the normal range. It's just my free cortisol levels that continue to come back below the reference range (now cross-checked with two labs, DUTCH test + Biohealth #201).
I don't have reduced adrenal output, I have normal adrenal output – which would fit the old definition "adrenal fatigue".
That's good news.
Nonetheless, the low free cortisol has to be troubleshot. The most likely explanation behind this is that I've been subjected to a long term stressor and my body has compensated to lower free cortisol levels. That maps to other information – that underlying stress, is most likely high ongoing inflammation levels that I have documented over several years now.
24 Hour Free Cortisol Levels (Baseline and Fasted)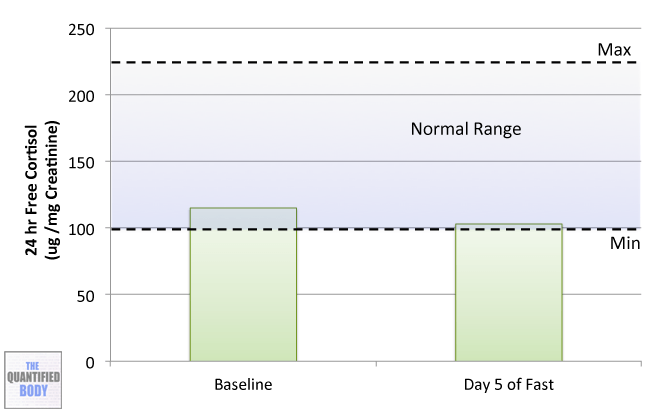 The Takeaway: Rather than just relying on propping up my adrenals with adaptogens, it's pretty clear that the end game is to continue to explore and resolve all causes of stress. Inflammation is my obvious first target, although it's another reminder to keep up my lifestyle stress management practices (adaptogens, meditation, circadian rhythm and sleep).
Note: For those who like to dig into the data – here's an explanation of the cortisol results from the DUTCH test.
Did Mental Performance Keep Up During the Fast?
Although I've always "felt productive" when fasting, I wasn't as sure that my mental performance was the same. This time round I planned to try to capture this information properly. Unfortunately the results weren't very clear.
I used Quantified Mind, the tool we covered in Episode 33 to track my cognitive performance in terms of Working Memory and Attention Control.
The main issue I was advised to eliminate by Yoni Donner, founder of Quantified Mind was the practice effect. As we perform any mental test repeatedly we get better – to understand if a fast was impacting me cognitively, I needed to try to eliminate that. To do this I used the same test repeatedly during the few months before the fast, due to travel this wasn't as consistent as I would have liked. The idea is that eventually you peak out, and any practice based improvements will have dried up or be minimal.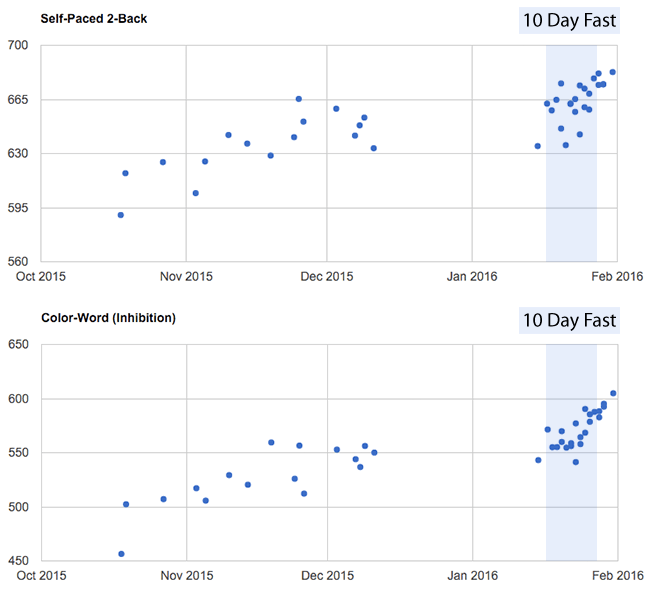 As you can see in the data above it looks like there were some pretty strong practice effects taking place throughout and after the fast. The fasting period is shaded out in blue.
As a result, I'll be continuing to use the same test panel in future fasts, and in between, to see if I can separate these out. With continued repetition I should be able to isolate any fasting effects.
The 10-Day Fast Experience
With repeated cycles of fasting I have become a lot more comfortable with "how it feels" – both body and mind do feel different on the water fast – the first experience I was cautious due to this – not knowing if I had new limitations that I shouldn't cross.
Now that I have got used to fasting, I basically run life as usual. I don't restrict my activity level or my schedule, or need to plan for it. In this fast of course I committed to making this a goal in itself to understand if fasting limits me.
As a result, during the 10 day fast, I was out meeting friends, business contacts – and even went on a date to an art exhibition.
Nonetheless there are things to note…
Physical Weakness
I experienced less of the feeling of physical weakness than in previous fasts – a heaviness or lack of refined motor control of the arms and legs.
I tested this a bit further on day 2 with one set of 55 push ups (my current 1 set max). This didn't feel much different to doing it in a non-fasted state.
During this fast as I was going about my days I had times when I actually felt 'physically strong' and was naturally walking around at a rapid pace. This was more so on the last 5 days of the fast, so that difference may simply be related to the fast being longer. In many ways the last 10 days were more physically comfortable than the first 5 days.
Sleep – My Next Challenge
On most of my fasts the biggest downside is sleep disruption. After a few days on the fast I tend to start to have interrupted sleep.
This fast was no exception. From day 5 I began to get night wakings as early as a couple of hours after going to sleep. After some of these I wouldn't be able to get back to sleep for hours. The exception was the last night – on day 10 – I had perfect sleep, longer duration, and deeper than usual judging by the drowsy feeling combined with how refreshed I felt in the morning.
Sleep disruption and night wakings are shown to impair glucose metabolism. So it's the likely cause of the slight rise in glucose I experienced on day 5 and 6 also.
For future fasts I'll be making sleep a priority to investigate, track and optimize.
The Mind Retreat
The mental experience of fasting for 10 days allowed me to appreciate more clearly aspects that I'd noticed in shorter fasts. Fasting promotes a less rushed, more practical and more bigger picture thinking state of mind for me.
The contrast of this with the typical more frenetic 'getting things done' focus of life is very attractive. In my mind it presents a great counter balance to keep your decisions in check once a month. It enables you to look at life, work from this other perspective once per month (if you're doing the cyclic fasting) and that strikes me as a good thing for decision making.
This was far more noticeable on the 10 day fast. Some of this may be related to the drop in testosterone (and libido!) I tracked.
The Post-Fast Rookie Mistake
If you're thinking of undertaking a 10 day water fast yourself. This is possibly the most important section – pay attention – I made the mistake and paid for it.
For 3 days after the fast I suffered from gut and toilet problems. Severe pain the first night to discomfort and the inability to keep anything actually inside me for the 3 following days.
It was a simple mistake. I assumed that what works post-fast for 5 days, should be okay for 10 days despite having spoken with people having done 10 or more day fasts that advised caution.
The biggest difference between the 5 and 10 day fast is how you start to refeed. I prepare and eat a couple of bowls of bone broth after my 5 day fasts without issue. I've found it to be a great high micronutrient way to ease back into eating.
However, with the 10 day fast, this turned out to be a disaster. My body simply was not able to deal with high levels of fat found in bone broth. My appetite didn't return as a result either, so I was having to push myself to squeeze in small meals. After 3 days of failing to get my digestion back to normality with a variety of food combinations I thought would work (vegetable soup, scrambled eggs, etc) I had to rethink my strategy.
I resorted to drinking exclusively blended green vegetable smoothies.
The turnaround was amazing. All my digestion issues disappeared literally with the first couple of glasses, and my digestion issues were completely resolved within the next 24 hours. I kept that program up for a few more days nonetheless, to make sure I was past the issues.
So my strong recommendation to anyone trying this – and myself for future long duration fasts – will be to start with exclusively vegetable smoothies for the first 24 hours as a minimum (better 48 hours). That should lay the digestive foundation to be able to move back to your usual eating patterns.
Symptoms – The Back Rash
I've experienced some slight rashes during fasts before. With this longer fast it was a lot more extreme.
By day 10 my whole back was covered with a rash of spots – just the back. It was quite stunning – it made me think back to the time I caught chicken pox.
This rash disappeared just as quick within a couple of few days of refeeding it was completely gone again.
The Takeaways
So coming back to the questions we want to answer:
Can I remain productive during a 10 day fast?

Would my mental performance suffer? Perhaps leading subtly to worse decisions, or perhaps just slower thinking?
Answer: It's not clear as yet. It doesn't look like there was any drastic mental performance impact on working memory or attention control. Future testing will need to be done with future fasts to further validate
Would my energy levels remain the same or decrease? Would there be a change in how many hours I could comfortably work per day?
Answer: There was no noticeable big change in energy levels or hours worked during the fast. If anything I felt a little more wired, and thus had to reduce my intake of caffeine.
How about concentration, focus and drive?
Answer: Testosterone is often associated with these attributes in men. Low testosterone tends to reduce these attributes, however while my testosterone dropped during the fast, that's not something I experienced. In a future 10 day fast I'll track testosterone on the last day (day 10) to see if the hormonal impact is greater than the mid fast impact (day 5).

Is "10 day fasting" every quarter sustainable? Specifically, where I'm doing monthly cycles of 5 day fasts in between?

Would I double the weight loss of a 5 day fast? And thus make it difficult to recover the weight within the following month?
Answer: Weight loss wasn't exactly linear – there was a leveling off at one point so weight loss per day was slightly less than with that I've experienced with the 5 day fast. The weight was easily regained within 15 days – so there doesn't look to be an issue with not being able to maintain my equilibrium weight when I introduce 10 day fasts every quarter in between the monthly cyclic 5 day fasts.
Would a 10 day water fast be as easy, psychologically and physiologically, as the 5 day water fasts? Or would I hate it?
Answer: If anything the 10 day fast was easier and got easier as I got into it. This could be due to my growing experience with fasting – "practice effects", or that fasts do get easier the longer you're on them. I think it's probably a bit of both of these.
Is there any downside impact on "adrenal health" or cortisol regulation from fasting? (this is a question I've been attempting to answer since I started long duration fasting)
Answer: My total cortisol and 24hr free cortisol were slightly lower on day 5 of the fast compared with baseline. Despite having done many fasts my 24hr free cortisol levels have not dropped from the original values I tracked a year previously – they're stable. My total cortisol is also well within normal output ranges. So my inclination is to say no. I'd like to check in a future 10 day fast the cortisol metabolism on day 10 to see if there is a 'declining slide' in cortisol output over longer duration fasts.
Episode Question: Are you convinced about the rewards of water fasting to try it yourself yet? If not, what else would you need to know to get you there? Let me know in the comments.
Tracking
Biomarkers
Blood Ketones (Beta-Hydroxybutyrate / β-hydroxybutyrate): Blood ketones are the gold standard for measuring your state of ketosis. During the fast, ketones are expected to peak in the range of between 6 and 8 mmol/L. Dominic D'Agostino mentions that metabolic acidosis with values over 5 mmol/L place an additional burden of processing on your body, so in non fasting states keeping values between 1 and 5 mmol/L may be optimum.
Blood Glucose (mg/dl): A measure of the level of glucose in the blood at one point in time. Values of between 50mg/dL and 60mg/dL are standard for fasts. Non-fasting values should be below 80mg/dL ideally, and at least 92mg/dL.
Glucose-Ketone Index (GKI): The ratio between the concentration of glucose in the blood to ketone bodies in the blood. The calculation is Glucose (mmol)/ Ketone (mmol). Dr. Seyfried created the index as a better way to assess metabolic status. Therapeutic efficacy is considered best with index values approaching 1.0 or below. Patients with chronic disease like cancer have consistent index values of 50 or more.
Weight (lbs): Standard scales measurement of weight in morning without clothes (to avoid biases).
Lab Tests, Devices and Apps
Tools & Tactics
Fasting Protocols
Water Fast: "Water fasts" are the standard fast protocol used in most of the research studies, including those looking at cancer inhibition or therapy for cancer patients. People are more or less extreme with the definition of what a water fast consists of. I personally am looking for the 'biological effects' or results. I'm not concerned with sticking to purely water unless that's what is required to gain those results. So my version in this fast includes some supplement support which should not interfere with the beneficial fasting mechanisms – see below in Supplements for details.

5 Day Water Fast: A minimum of 3 days is required to flip most people's metabolic switch between glucose and ketone metabolism, and attain the benefits of the fast. For this reason a good place to start with water fasting is 5 days, which incorporates 2 days of therapy time (i.e. after the 3 day lead time to switch the metabolism). You can see this effect taking place in my first 5-day water fast self-experiment. The 5 day fast is also manageable on a cyclic monthly basis: 25 days of normal life, and 5 days of fasting per month.
10 Day Water Fast: To provide a deeper dose of therapy (i.e. 7 days) people are extending their fasting times to 10 days, or beyond. As per my interview with Dr. Thomas Seyfried this may be more effective with respect to the anti-cancer effects. Depending on your risk profile, this may be something you consider doing from time to time.

Fast Mimicking Diet (FMD): A diet designed by researcher Valter Longo to maximize activation of the beneficial fasting mechanisms while still allowing you to eat to an extent. The details of this type of fast were covered in my FMD self-experiment in episode 31.
Supplements
My goal with this fast was to support my body without interfering with the beneficial fasting mechanisms, and to stay productive throughout (work wise and socially). So this is actually what I did:
Mineral supports: This was the main supplementation I took covering a broad spectrum of minerals.

(Both of the above recommended to me by Chris Shade from this episode)

Drinks: Besides water I also consumed some other drinks during the fast, primarily for productivity purposes. My usual routine is to have a coffee in the morning, with the obvious caffeine jolt – so I kept to that usual routine, just keeping it to simple no calorie versions.

Black Coffee: For the first 5 days I took a black coffee in the morning, however I typically found that I naturally didn't finish it. As the first continued I increasingly felt the caffeine from this single coffee was too much of a stimulant, the effect seemed to be magnified. So half way through I switched to…
Teas: Mostly Green Tea, also some Rooibos and Camomile tea. I found the green tea didn't over-stimulate as much although I was still maxed out on 1 or 2 cups. More than that and I got the jitters.
Personal Note: Background on Using Minerals in Fast
There was another, more personal, reason I included a good amount of mineral supplementation during the fast. Since the episode with Chris Shade I've been following his mercury and heavy metals removal protocol.
Part of that protocol requires that you take a break from time to time to halt the process and remineralize the body since a side effect of the protocol is removing needed minerals along with the heavy metals.
I wasn't going to be following the Shade protocol during the 10 day water fast (I stop all other experiments and protocols while fasting), so it made sense for efficiency to use that time for remineralization.
Other People, Books & Resources
People
Dr. Thomas Seyfried: See episode 16 for a discussion of his theories and work.
Dominic D'Agostino: Dominic has led some of the research into the benefits of ketone bodies and metabolic therapies, he is now turning much of his research effort towards cancer similarly to Thomas Seyfried.
Chris Kresser: Damien first learned about the benefits of the DUTCH test at Chris' recent seminar in London.
References:
Röjdmark S. (1987). Influence of short-term fasting on the pituitary-testicular axis in normal men.
Klibanski A, Beitins IZ, Badger T, Little R, McArthur JW. (1981). Reproductive function during fasting in men.